Tripoli Police Department
Serving the citizens of Tripoli

Chief of Police - Daniel Banks
303 S. Main St. PO Box 587
Tripoli IA, 50676
319-882-3400 (office)
Emergency Call - 911!
319-352-5400 (Non-Emergency 24-hour)
tripolipd@butler-bremer.com

Police Equipment
Police Bike- Tripoli PD purchased a police bike to allow better interaction with community while still offering effective patrol.

Taser- Tripoli PD is trained in and carries an X26 Taser. This is effective inkeeping officers and citizens safer, by minimizing injuries.

AR-15 Patrol Rifle- The rifle was purchased to allow rapid response to active shooter situations.

Chemical Detection-The First Defender was received on a grant. It allows rapididentification of thousands of chemicals, pills and powders. Within a few minutes it can identify narcotics, prescription drugs, and liquids.

AED- Tripoli PD is certified in CPR and the use of AED. An AED can save valuable time in a cardiac situation.

FreedomView - LED Fiberscope provides superior image resolution for inspecting concealed areas. The scope is completly immersible in water, gasoline and diesel.
---
Tripoli Fire Department
101 2nd St. SE
Tripoli, IA 50676
319-882-4298
Emergency Call - 911

Officers
Fire Chief - Dan Burgart
1st Assistant - Brian Milius
2nd Assistant - Jordan Shonka
Training Officer - Kevin Buhrow
Assistant Training Officer - Tyler Shonka
Secretary - Jason Biermann
Chaplin - Chris Johnson
---
Tripoli Ambulance
101 2nd St. SE
Tripoli, IA 50676
319-882-4298
Emergency Call - 911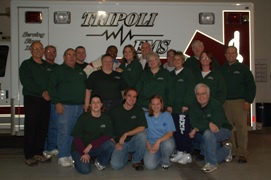 Officers
Crew Chief - Kip Ladage
Assistant Crew Chief - Steve Hill
Secretary - Madeleine Ambrose
Training Officer - Randy Pfile